Dakota Digital 1973- 87 Chevy Pickup, 1973- 91 Chevy Blazer, GMC Jimmy and Suburbans GRFX Instruments - GRFX-73C-PU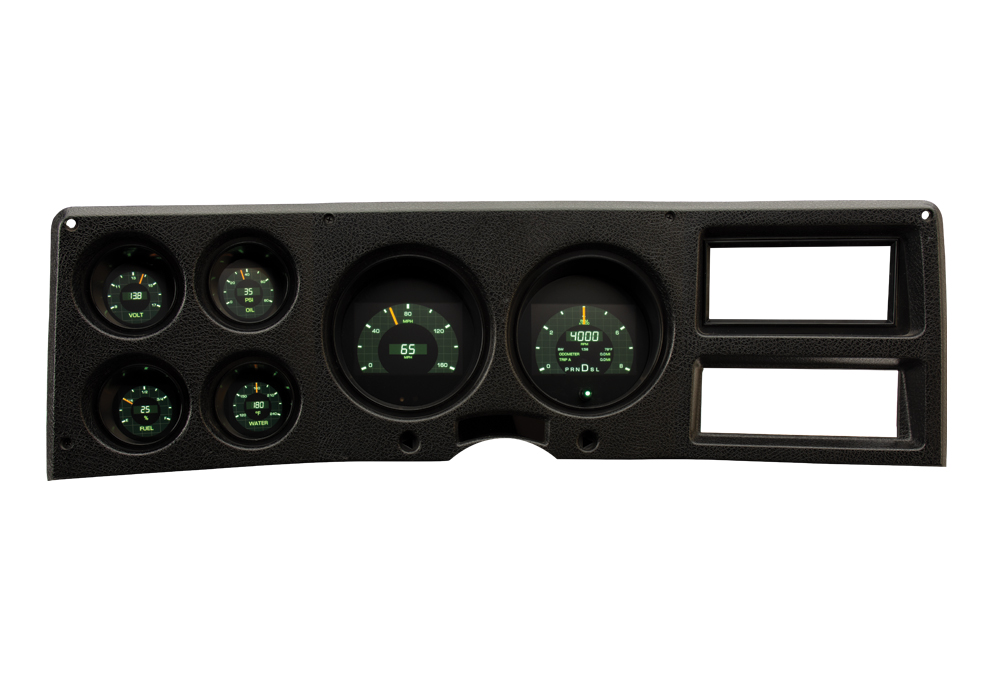 This system will fit: 1973- 87 Chevy Pickup, 1973- 91 Chevy Blazer, GMC Jimmy and Suburbans
A direct bolt-in to the '73-87 Chevy Truck, the GRFX-73C-PU offers the boldest interior upgrade that can be made. Bringing integration ability with any drivetrain, modern features and technology, along with the ability to customize to your heart's content, there is no comparison!

*Bezel not included, shown for visual/presentation purposes.
System uses OEM or reproduction style bezel.
The Grafix Series allows the user to customize nearly every aspect of the instrument system. A variety of graphic themes can be selected, each element within can be further personalized with unique display colors and warning modes. Furthermore, each gauge location can be configured with an Analog, Digital, or Bar-graph style of readout. Each display can show readings singly, grouped in pairs for twice the visible data, or completely reconfigured to show a different readout entirely!
New to the automotive aftermarket is the integration of a reverse backup video display, offering you visibility, safety and peace of mind while backing. Using the largest onboard display within the Grafix system, the video footage is displayed right within the instrument cluster! Dakota Digital offers a range of backup cameras, available separately, with full-length wire harness and universal mounting for simplified installation.
Onboard GPS technology provides automatic speedometer calibration, no matter the tire size or gearing! A wired VSS source is used to provide an always-present and real-time speedometer input signal, utilizing the GPS information as a known speed reference, providing the user with no-touch calibration for the ultimate convenience!

Built-in Bluetooth technology allows wireless access to the Dakota Digital App, available for download on your smartphone or tablet. The app can be used for simple configuration, calibration, system customization or even vehicle troubleshooting with real-time gauge and sensor data. USB access port provides field updates, allowing for future enhancements, new factory-released graphic theme imports and a variety of features yet to come.
Integrated G-force meter provides a graphical display of the real-time gravity impact. Whether carving the corners, launching or braking with authority, this display will show you effects of your driving prowess.
The primary user-control is made with a fully-backlit rotary encoder. Conveniently located in the face of the instrument system, this billet-aluminum control knob provides access to readout changes, resetting of various timers or settings. Deeper yet, all calibration and display configuration can be done here as well, putting all system controls at the tip of your fingers!
Like all Dakota Digital systems, an external control module is utilized, allowing the installer to better plan and control vehicle wiring, creating a tidy finished installation and reducing the amount of wiring routed to the gauge cluster itself. A complete sensor package enclosed, including a Water Temperature probe with a full-length harness and a variety of adaptor bushings. A solid-state Oil Pressure Transducer for paramount accuracy and a Speedometer Pulse Generator are included as well, each with respective full-length harnesses.
Completely Engineered and Produced in Sioux Falls, South Dakota, all Dakota Digital instrument systems carry a Limited Lifetime Warranty.
GRAFIX / GRFX Series Introduction

Display Styles:
▪ Full digital, TFT type of displays
▪ User-selectable lighting colors and graphic themes: Standard, Performance, Modern and Era
▪ Era (1, 2 or 3) theme is controlled by the year of the vehicle, focused on a common aesthetic from that time range
▪ Each display can be configured for readout type and interface style; digital display, simulated analog or bar-graph layout
▪ User-selectable Standard or Metric readouts
▪ Displayed data can be relocated, or coupled with other readouts
▪ Configurable readout warning colors, providing visual or audible notification
▪ Auto-dimming, using sunlight sensor
▪ High-Contrast mode for enhanced daylight visibility
Display User and Interface Functions:
▪ On-board GPS speedometer technology allows for enhanced calibration, no matter the vehicle variables
▪ Alternatively, a wired VSS input is available, measured-mile calibration is use for this option
▪ Built-in backup video screen, allows for simplest integration with most common backup cameras, or options sold
separately: CAM-1000/CAM-2000 (sold separately, not included). Typical screen used for backup is Right/Large display; triggered by backup circuit
▪ Bluetooth technology allows for wireless access to the Dakota Digital Accessories app, providing setup, configuration,
real-time data and troubleshooting
▪ USB connectivity allows for field updates and upgrades
▪ Halo-lighted rotary encoder provides an enhanced user-interface; selecting and modifying readouts, display types,
timers and all setup and customization options. This is mounted in the face of each system
▪ Base readouts for Speedometer, Tachometer, Oil Pressure, Water Temperature, Voltmeter and Fuel Level are
incorporated
▪ Standard Dakota Digital performance readings (0-60 timers, ¼ mile, etc.)
▪ Standard Dakota Digital indicator light package (L/R turn, High Beam, Park Brake, Check Engine, Cruise), as well as EX-
and EX+ programmable input names
▪ G-force graphical readout provides real-time display while accelerating, braking or cornering
▪ BIM compatible (up to 16) with all current options
▪ Simple integration with OBD II or aftermarket EFI systems, utilizing the BIM-01-2 bridge modules (not included, sold separately)
▪ Standard programmable fuel level input (selectable name of FUEL or DIESEL), allowing integration with any OEM or
Aftermarket sensor (not included)
▪ DEMO mode for use to show off the system in a vehicle, or dealer display

System kit specifics:
▪ Includes standard sensor package: Speedometer, Oil Pressure and Water Temperature
▪ Standard-size external Control Module allows for better consolidation of wiring, reducing wiring and terminations, and
eliminates bundles of wiring routed to gauge cluster
▪ Limited Lifetime Warranty

---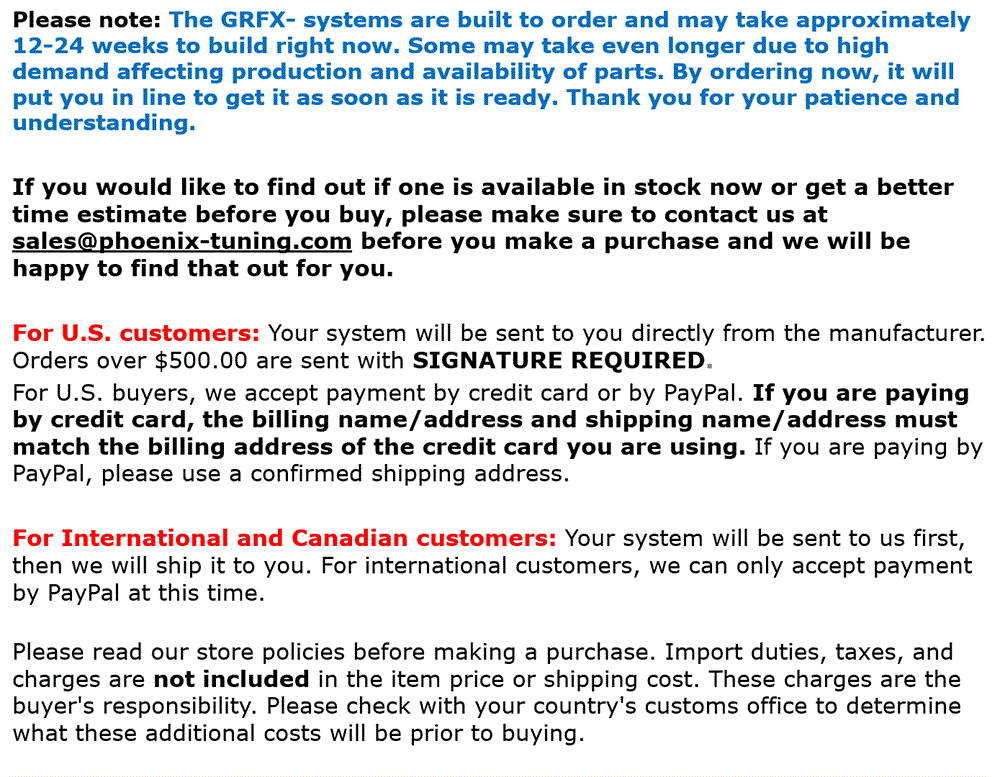 ---
GFRX Specifications:
Gauge Ranges

Speedometer
Simulated Needle Range up to 200 MPH/ 320 kmh

Digital numeric range up to 255MPH/ 410km/h
Tachometer
Simulated Needle Range up to 16,000 RPM

Digital numeric range up to 16,000 RPM
Oil Pressure
Simulated Needle Range up to 150 psi

Digital numeric range up to 300 psi with optional 0-300 psi sensor (SEN-03-9), SEN-03-9 sold separately
Water Temperature
Simulated Needle Range up to 260ºF/ 130ºC)

Digital numeric range up to 300ºF/ 130ºC)
Fuel Level
Simulated Needle Range can show E, 1/4, 1/2, 3/4, F

Digital numeric range 0- 100%
Voltmeter
Simulated Needle Range up to 18 VDC

Digital numeric range 0- 18VDC
Clock
12 Hr Analog/ Digital Clock Movement
Digital Message Centers
Standard Displays:
Odometer (One time user settable, Million Mile)
Dual (A/B) Trip Meter (0-9,999.9)
Clock, Digital (12 hour)
Estimated Range/Miles to Empty

Hour Meter
Performance Meters:
0-60 MPH Timer (0-100 kmh)
1/4 and 1/8 mile time
1/4 and 1/8 mile end speed (trap speed)
High speed recall
High RPM recall
G-Meter (GForce)
Built-In Indicators:

Turn Signals (Left/ Right)
High Beam
Check Engine
Parking Brake
Cruise Control (On/ On & Engaged when vehicle is equipped)
Gear Position (Optional GSS-3000 sensor required, sold separately)
4 x 4 (When vehicle is equipped)
Wait to Start (When vehicle is equipped)
Two Auxiliary input indicators with user-programmable labels
Each analog gauge sweep contains an indicator for quick notice of a warning condition (except speedometer)
**Not all OEM indicator lamp functions will be replaced.
If additional indicators are desired within the new instrument system, consider repurposing any unused indicators to suit your application.
Lighting Technology:

Colors
Over 30 user-selectable color options allow you to independently change the needle color, sweep color and digital alphanumeric display color.
Internal Photo Sensor

Automatically adjusts gauge brightness based on ambient light. Manual control can be accomplished on-the-fly with the optional DIM-1 (sold separately) dimming knob.
Auto High Contrast mode for high sunlight situations to insure the best visibility at all times.
Auto Night Mode adjusts brightness for low light or night driving. Manual control when wired into headlight circuit dims gauges whenever the headlights are on. (optional)
Themes
With 4 factory preset gauge themes Standard, Performance, Modern and Era and 12 colors color schemes, you can quickly create a beautiful looking system. Or, for the ultimate in customization, choose all of the color zones yourself.
Technology
Full RBG backlighting allows you to create the specific color you want, with a unique daytime and nighttime theme if desired.
Included Sensors:
Water Temperature - 1/8" NPT, ground isolated sensor with a 10 ft harness.
Oil Pressure - 1/8" NPT solid state sensor with a 10 ft harness.
Cable Driven Speed Sensor / Generator - Replaces GM style speedometer cables with a 10 ft harness. Sensor requires approximately 5" clearance extending between the cable drive output and any obstruction. Part # 130011 (sold separately) allows for relocation of the pulse generator when additional clearance is required. (Tremec and Ford style adaptors available on request.)
Bushings - Each kit comes with 1/8" to 1/4", 3/8" and 1/2" NPT bushings along with bushings for 12mm and 16mm x 1.5 threads.
Control Box Dimensions - 5.5" x 3.5"x 1"
Calibration and Use
Pushbutton Control - Dakota Digital instrument systems are programmed and operated by the push of a button. A two-sided rocker switch is included with each package; mount this switch in an easily accessible location when in the driving position. The rocker switch provide quick and consistent access to all functions, either in driving mode or while in the setup menu. Button-press feedback is available through the TFT Message Center, or through the included buzzer. Once configured, this same switch is used to access the wealth of information located in the digital message centers.
Mobile App - GRFX instrument systems can also be completely configured through the available mobile app, suitable to Android and Apple devices. Using your existing tablet or smart phone, download the free app, sync your device to the GRFX system, and enjoy quick and convenient menu navigation and real time gauge readouts for diagnostic use or a secondary display.
Calibration - All calibration settings are handled through the included pushbutton switch or the remote Bluetooth app. While many calibration settings exist, the speedometer and fuel level are completed in most cases (unless GPS-50-2 is used, negating the need to calibrate the speedometer) through a few taps of the pushbuttons and a short test drive of the vehicle.
---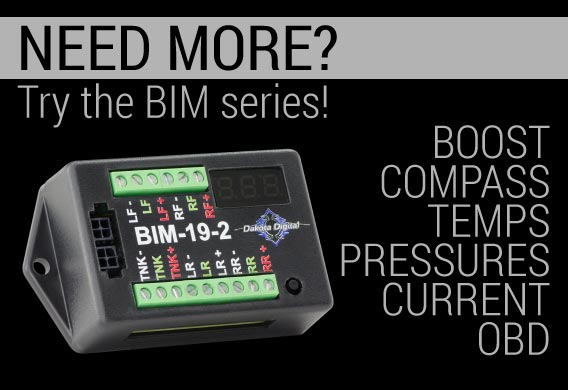 ---
---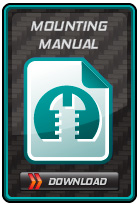 ---
Which extra items that are not included with this kit does Dakota Digital recommend that you consider?
Because Dakota Digital includes the required sensors for the Oil Pressure, Water Temperature and Speedometer with all its instrument systems, in many cases no additional parts will be required. However, you may wish to consider the following optional items, available for purchase separately in our store:
GSS-3000 - Universal Gear Position Sensor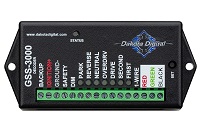 All Instrument packages contain a gear shift indicator display allowing the transmission gear position (Park, Reverse, etc.) to be shown within the message center. The GSS-3000 accommodates automatic transmissions with 2- 4 forward gears and enjoys a simple and straightforward installation.

Although Dakota Digital instrument systems are programmable for both day and night intensity levels, the DIM-1 will allow rotary, or on-the-fly brightness adjustment added convenience.

Dakota Digital instrument systems are designed to utilize a stock or aftermarket fuel level sensor. If a universal or replacement sensor is desired, the SEN-06-1 is a great choice.
BIM-01-2 - OBD II/ Can Interface Module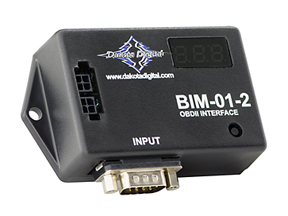 The BIM-01-2 OBD-II (J1850/CAN) Interface connects directly to the ECM diagnostic port to extract engine and transmission data and supply it to the instrument system, making installation a breeze.
More info about this system and pics are available below.

---
The following pictures show examples of some of the user selectable backlighting color options. Bezel shown in any pic is NOT included, shown for illustrative purposes only: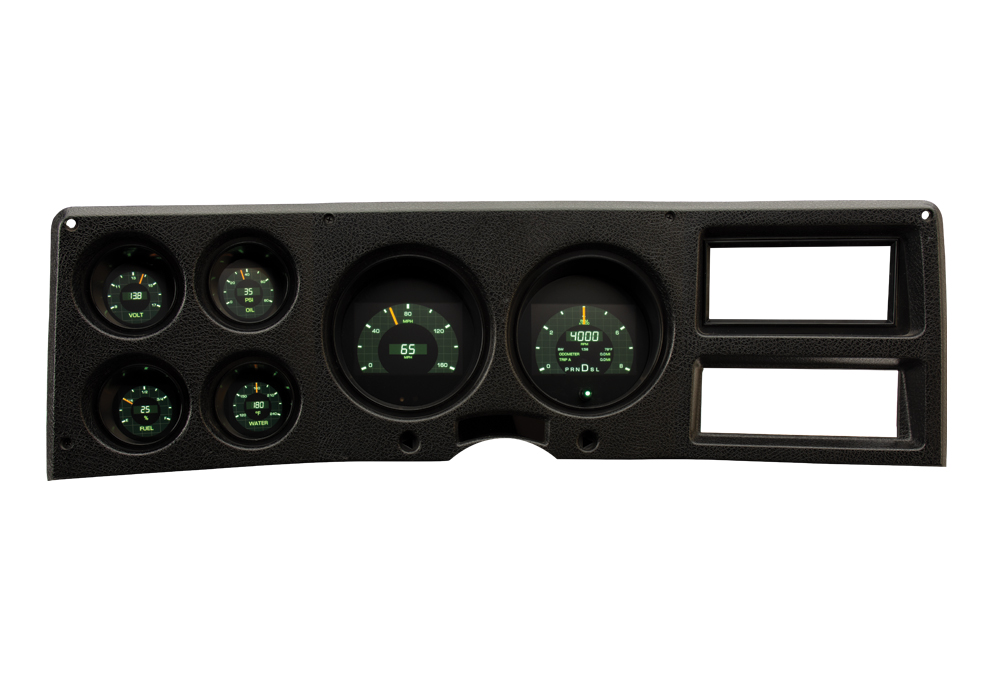 GRFX Standard Themes:
Ice and Fire Theme:
Incandescent Theme: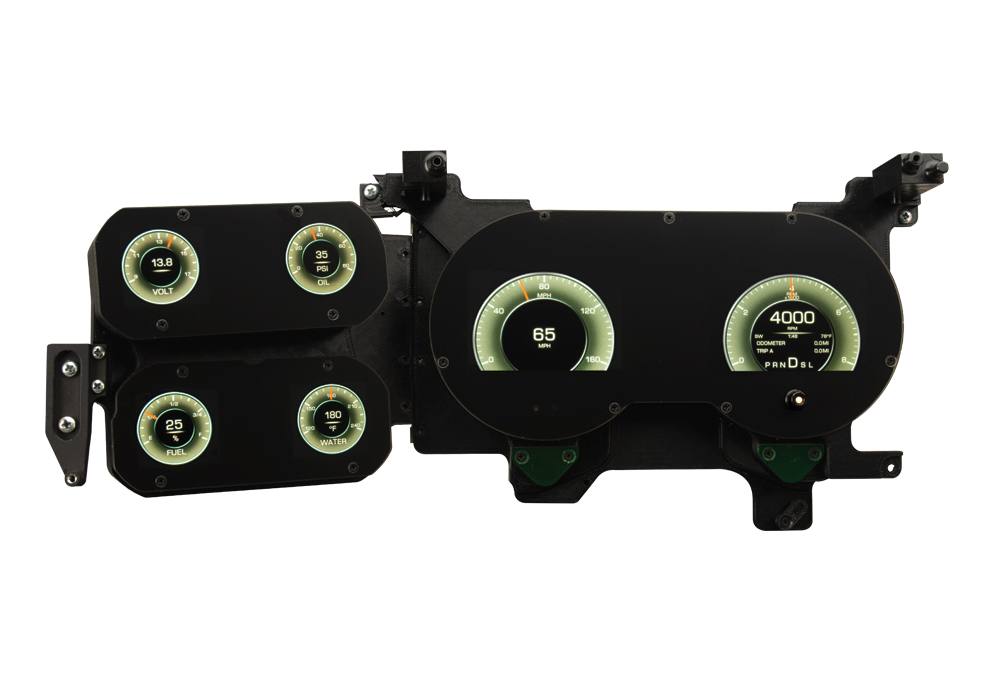 Vivid Orchid Theme: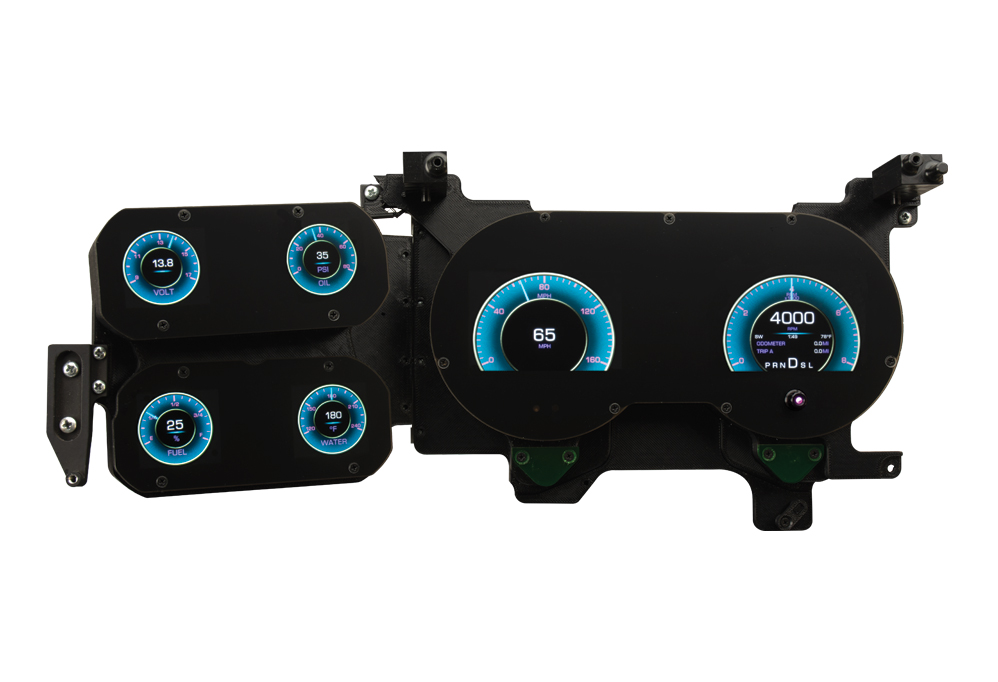 Emerald Theme: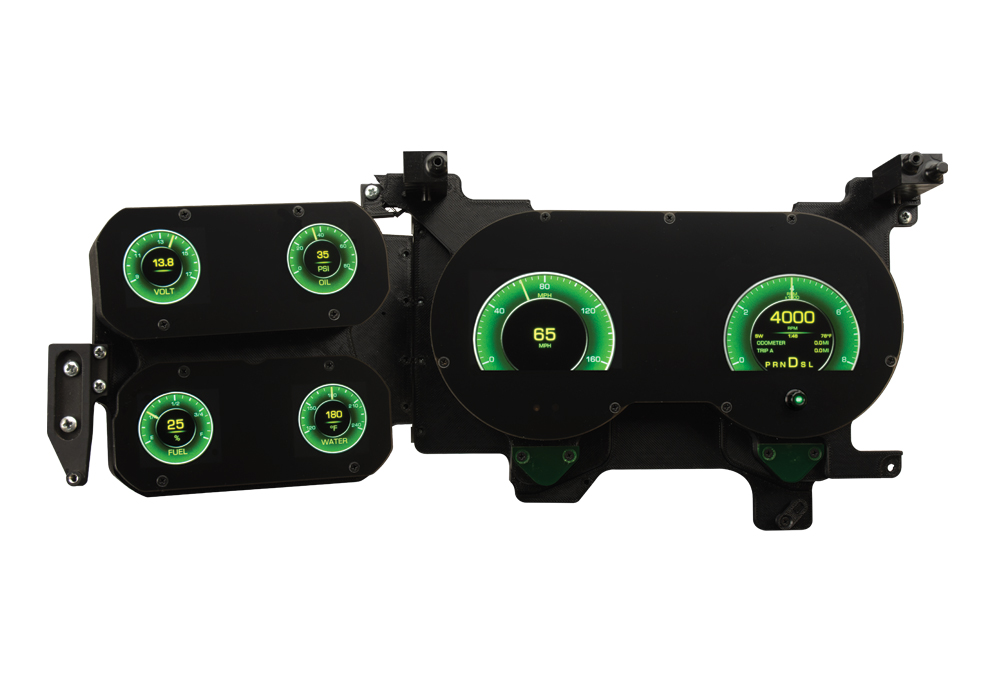 Wild Rose Theme: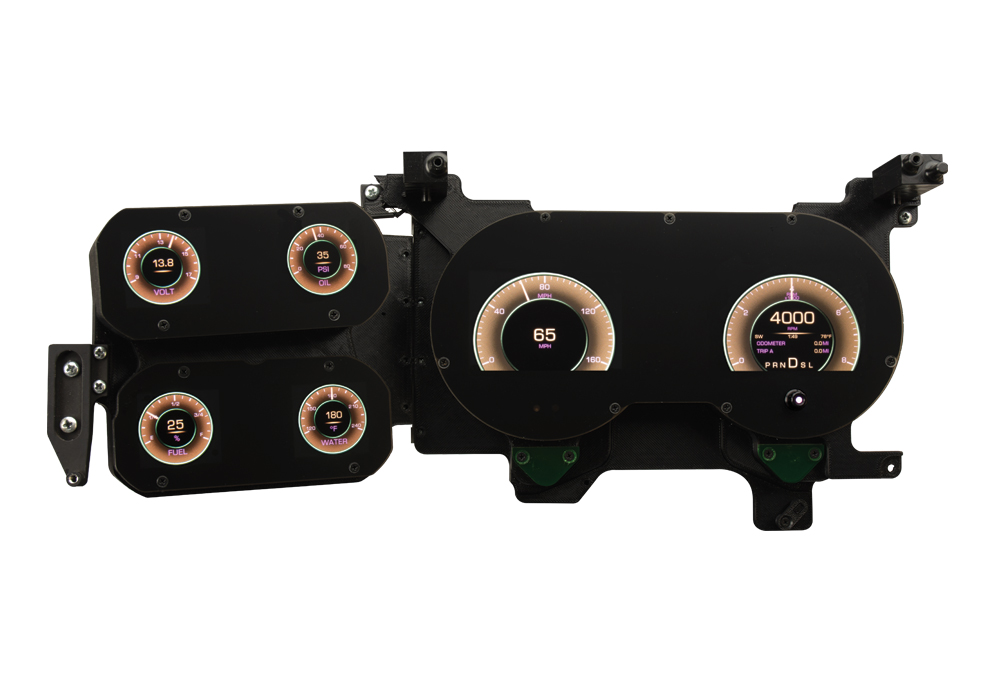 GRFX Performance Themes:
Wild Aqua Theme: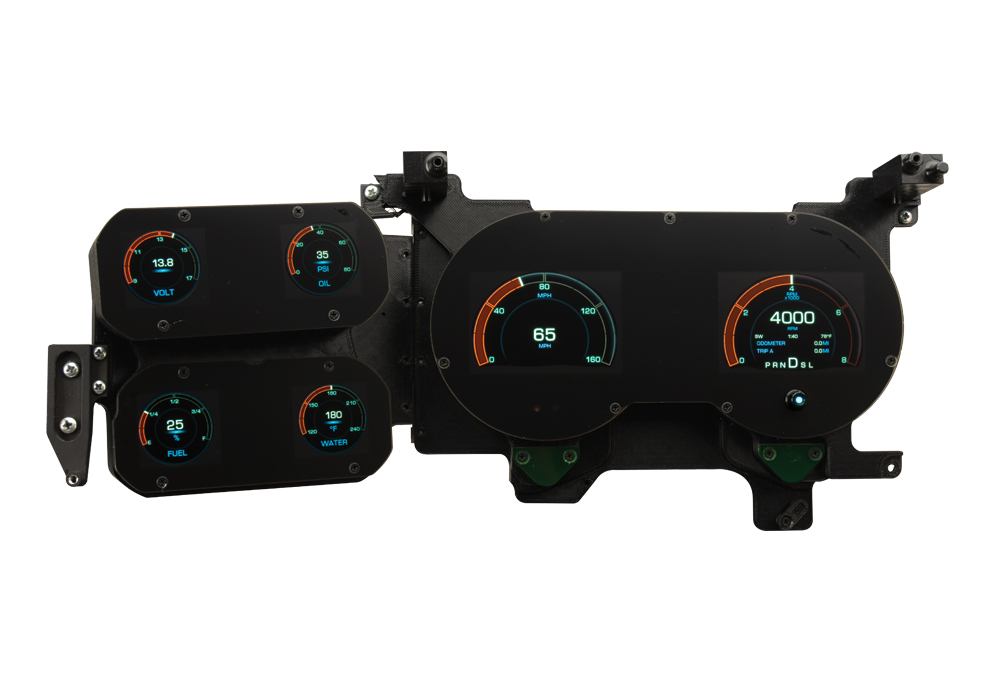 Fire and Ice Theme: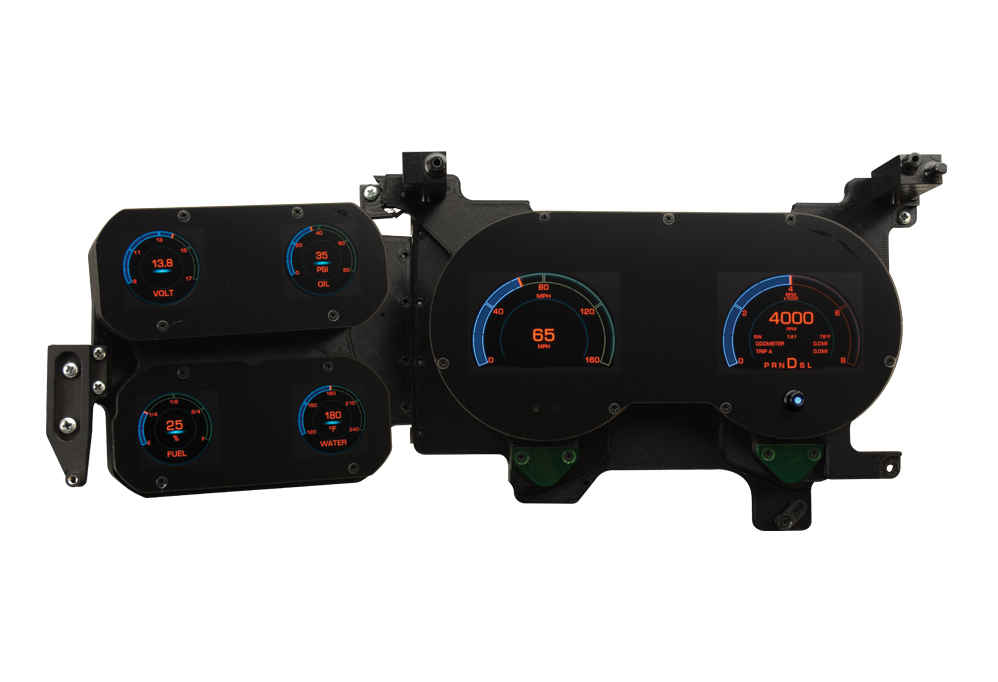 Mint Green Theme: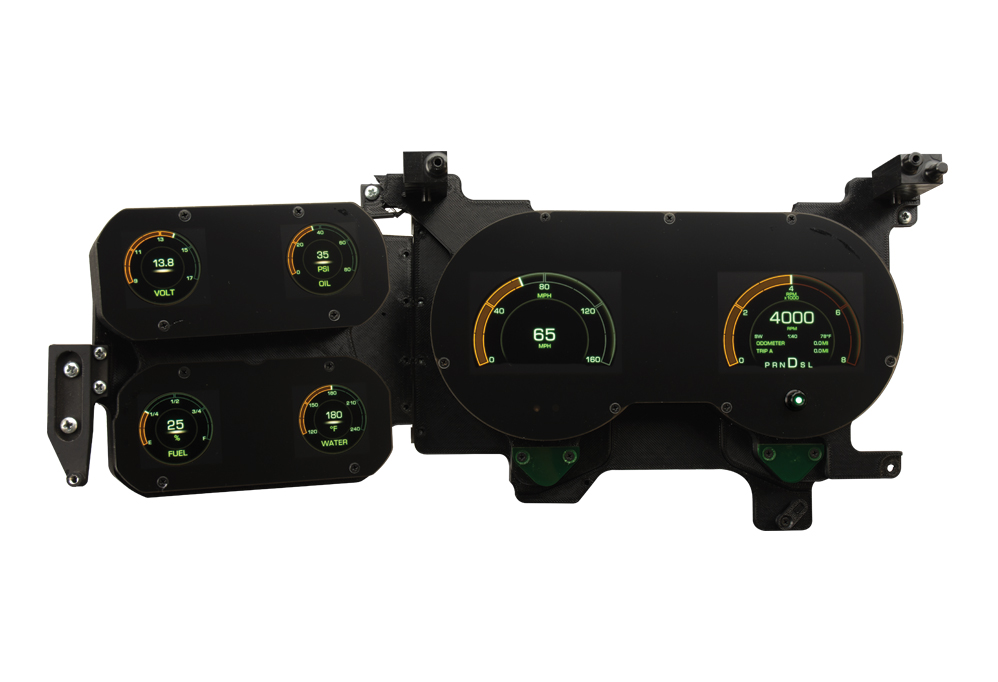 Steel Blue Theme:
Yellow Flare Theme: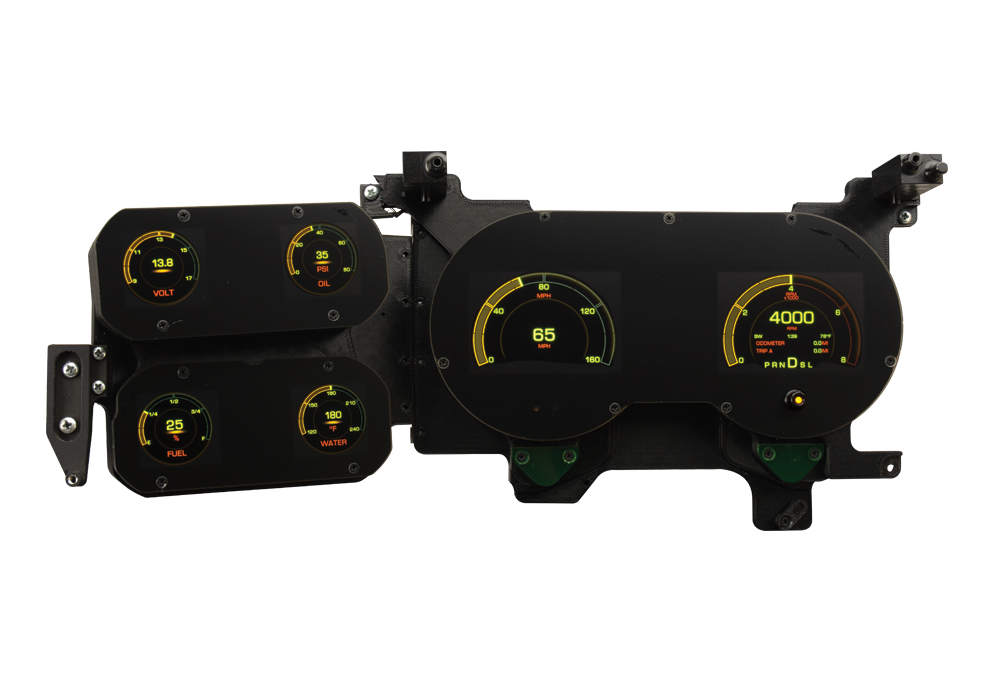 GRFX Modern Themes:
Ice White Theme: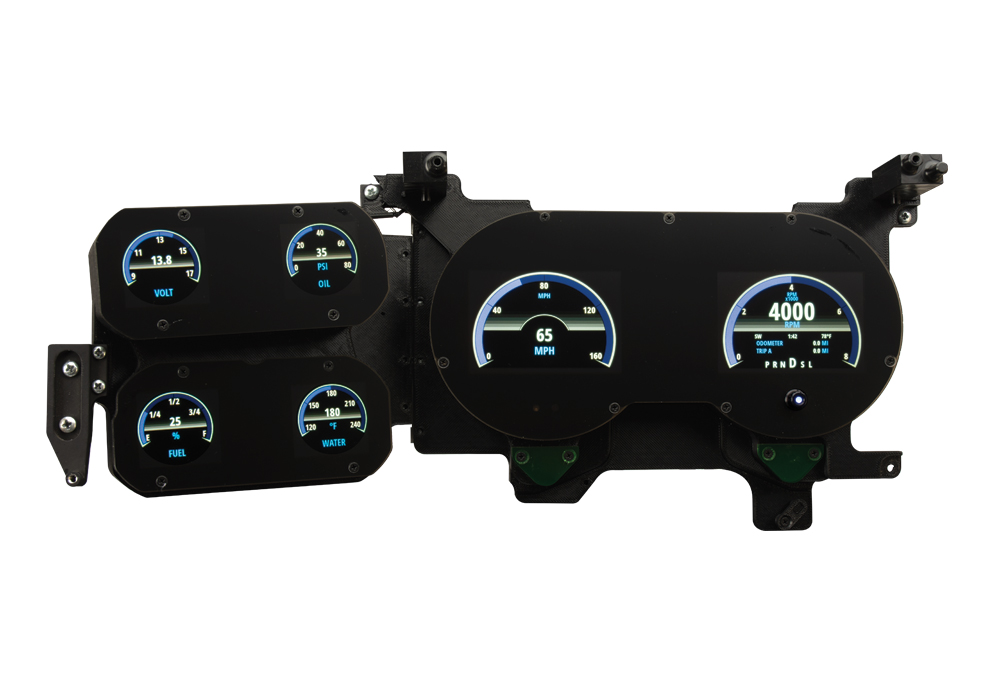 White Hot Theme: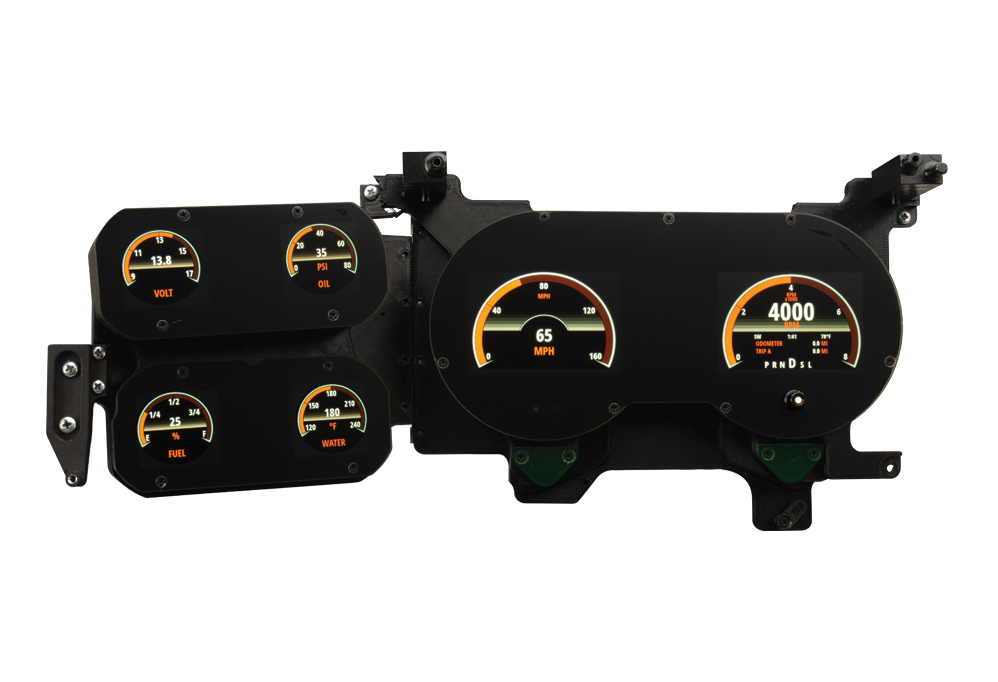 Emerald Theme:
Vivid Orchid Theme: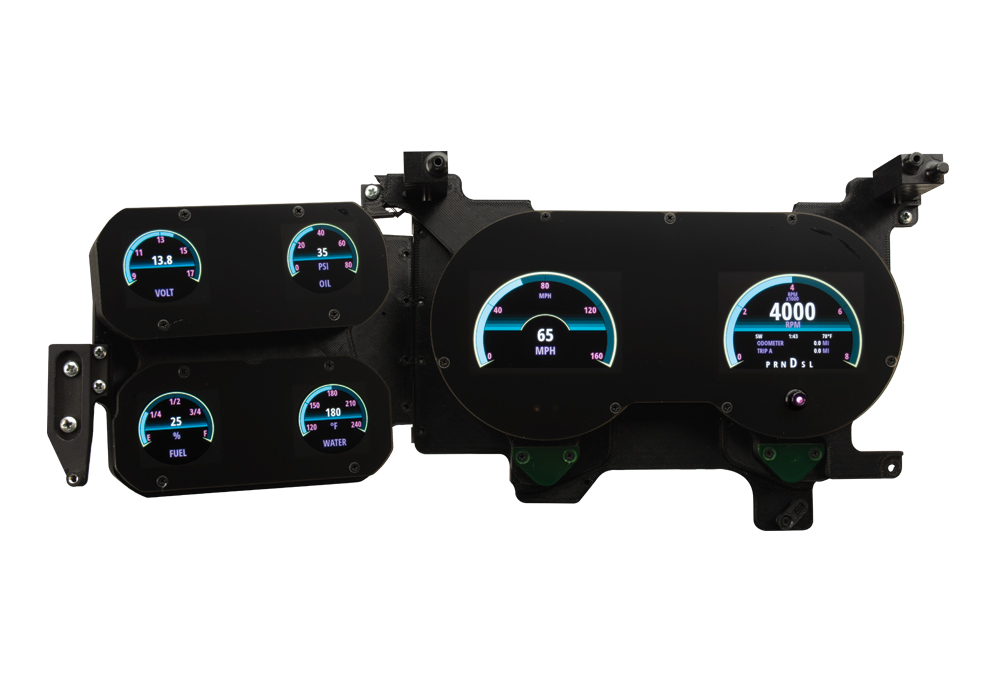 Ice and Fire Theme:
GRFX Era Themes:
Incandescent Theme:
White Hot Theme: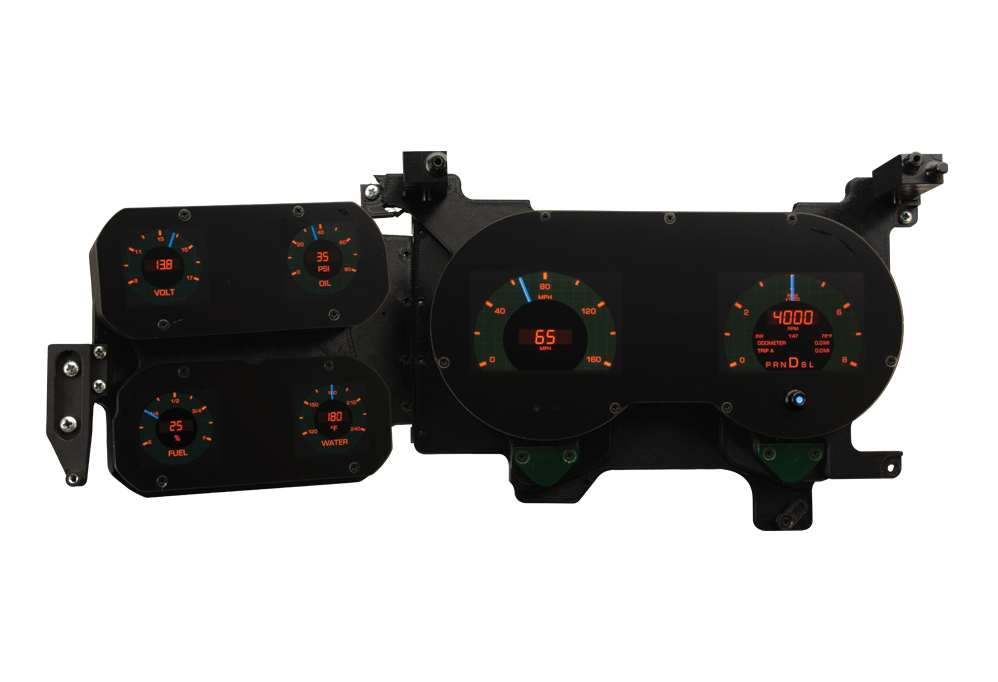 Wild Rose Theme:
Mint Green Theme: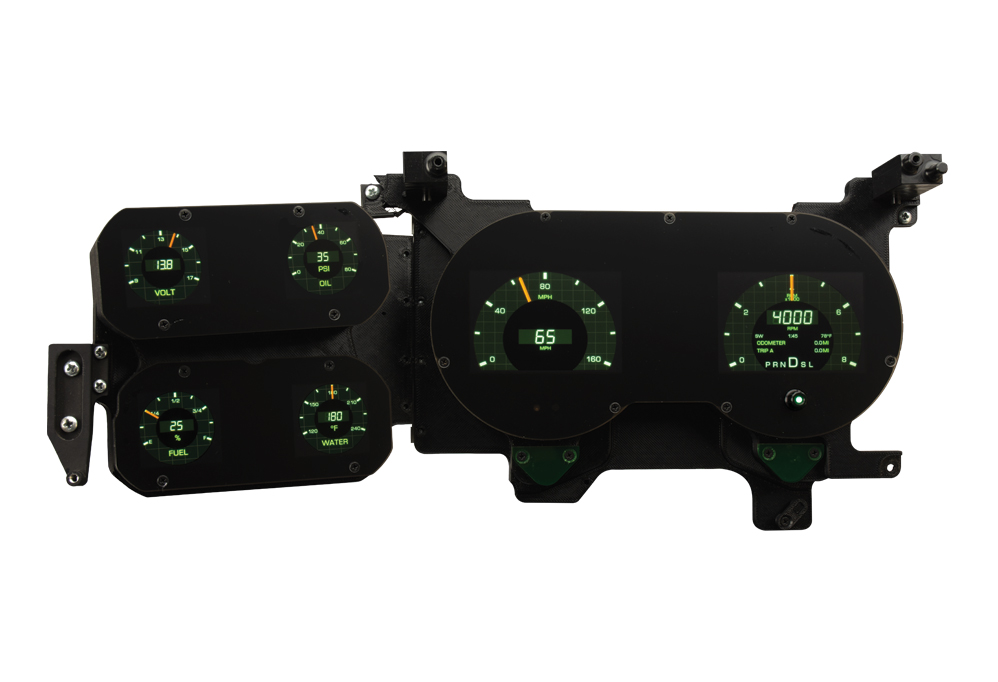 Fire and Ice Theme:
Limited Lifetime Warranty through manufacturer, see installation manual for details