Please note: This item is a pre-order and may take a few weeks before it goes out. You can still order it now and it will get sent to you as soon as it is ready. If you would like us to check for an updated time estimate before you buy, please contact us before you make your purchase.
It's no secret that the small block Chevy doesn't allow much space for an oil pressure sensor. For years, enthusiasts hit the hardware store in search of a few brass fittings to move the sensor up and away from the intake and distributor. This one-piece machined adapter gives you the clearance and flexibility you need in one convenient solution. The 130070 is machined in the USA with a male 1/8" NPT thread to fit your block, plus two female 1/8" NPT threads to accept the sensor of your choice. The female ports are at 45 and 90 degrees, allowing maximum flexibility for a variety of situations. A 1/8" NPT pipe-plug is included to block off the unused port.

Sensor is sold separately (not included).
---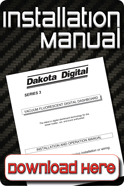 ---