Dakota Digital 1942-48 Ford Car Clock Panel with VFD clock gauge - ALC-42-CLK
ALC-42-CLK - 1942 - 1948 Ford clock panel w/ VFD clock.

* VFD Display is covered by Limited Lifetime Warranty.
** See standard color options Blue or Teal.
The face of the clock and the bezel is 5". The opening for the face of the clock is 2.4".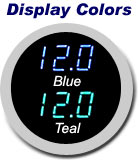 ---